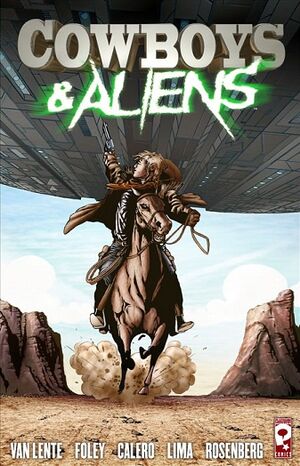 Cowboys & Aliens is a 100-page graphic novel created by Scott Mitchell Rosenberg for Platinum Studios in 2006.
The graphic novel was written by Fred Van Lente and Andrew Foley, with Luciano Lima and Magic Eye Studios providing the pencils. Inks are by J. Wilson, Silvio Spotti, Luciano Kars and Magic Eye Studios. Andrew Elder provided the colors, with letters by Scott O. Brown. Zachary Pennington designed the book cover and title.
The book tells the story of an alien invasion in Arizona during the mid-1800s. The local cowboys and Apache tribes band together in order to fend off the invading forces in order to prevent being enslaved.
Official synopsis
Edit
The Old West: An era when all a man could count on was his horse and his six-gun, and Indians fought a losing battle with the European settlers. Until somebody else entered the fight — an invader who saw ALL humans as slaves, and was determined to conquer our world.
Characters
Edit
Ad blocker interference detected!
Wikia is a free-to-use site that makes money from advertising. We have a modified experience for viewers using ad blockers

Wikia is not accessible if you've made further modifications. Remove the custom ad blocker rule(s) and the page will load as expected.