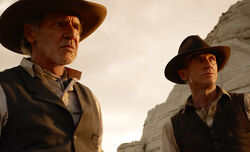 Hey Cowboys and Alien fans! If you were dying to meet Jon Favreau at Comic-Con but didn't get a chance to go, Cowboys and Aliens is LIVESTREAMING the event right now!
Thanks to MTV News, we'll get to watch an interview with Jon Favreau discussing the movie. Don't miss the livestreaming right here right now!
Livestreaming Event
Ad blocker interference detected!
Wikia is a free-to-use site that makes money from advertising. We have a modified experience for viewers using ad blockers

Wikia is not accessible if you've made further modifications. Remove the custom ad blocker rule(s) and the page will load as expected.